Top Five Patio Furniture Brands for Your Outdoor Living Space
Top Five Patio Furniture Brands for Your Outdoor Living Space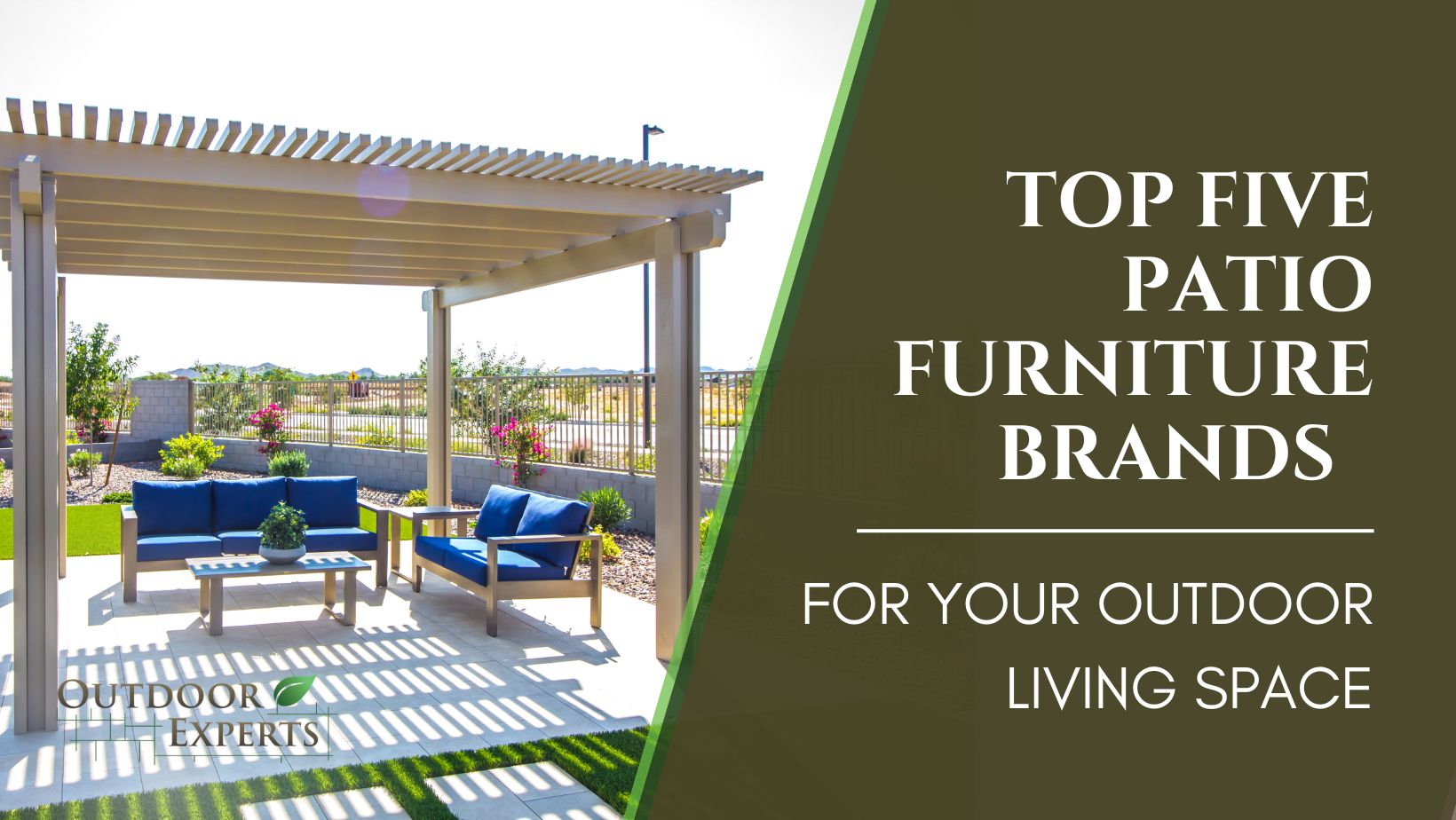 Everybody wants the best when it comes to outdoor furniture.  
But it can be hard to know which brands have the perfect blend of style and durability.  
You want furniture that looks good, complements your style and can stand up to the pressures of nature.  
All of that can be hard to find, especially if you are on a budget.  
Outdoor Experts has assembled a guide for the top five outdoor furniture brands that will be perfect for your outdoor living space this year.  
These Patio Furniture Brands are the Best for Your Home 
When trying to choose the perfect outdoor furniture brand for your home, you may find yourself overwhelmed with options.  
Here are five brands that we consider truly superior.  
Outer 
Launched in 2019, Outer has quickly established itself as one of the top outdoor furniture brands. They make ultra-durable and highly comfortable outdoor sofas, with a stylish look that will last for years. 
Their patent-pending design protects the cushions and keeps them dry, durable, and always ready to use. That means this brand makes furniture you can count on, even if your weather is unpredictable. 
Their Teak line is very fashionable and may be just the thing to shape your patio's style this year.  
Tropitone 
If you have ever wanted outdoor furniture that is worthy of a five-star resort (with an affordable price tag), then Tropitone may have just what you are looking for. 
Established in 1954, Tropitone provides superior outdoor furniture for residential and commercial spaces. Their stylish pieces are made for durability and heavy use, so they will last even in harrowing conditions.  
Article 
The best thing about Article's selection is they offer a variety of furniture that is quick to ship and extremely versatile.  
Their pieces also come with a much lower price tag than some of the other brands on this list.  
Choose from many different style options to find furniture that is perfect for your home.  
Arhaus 
We love this brand because they offer so many different options and styles. The perfect blend of style, comfort, and durability, some of the most enviable furniture you will find anywhere whether it's inside or out.  
If you want the best in terms of quality, Arhaus is the way to go. Their furniture does come with a higher price tag than some of the other brands on this list, but they will last so long, it's worth every penny. 
Yardbird 
Last, but certainly not least, Yardbird is an outdoor furniture brand that you can count on. They use a factory-to-consumer model, meaning you get high-quality products at a lower price.  
Their streamlined process allows them to deliver top-quality materials while prioritizing sustainability. Each piece of furniture is 100% recyclable and many models are made with recycled plastic. 
Outdoor Experts Helps You Build the Outdoor Living Space of Your Dreams 
Outdoor furniture isn't the only feature that makes your outdoor living space all it can be.  
You need an outdoor living space that is as refined and elegant as your home.  
Upgrade your outdoor living space with the outdoor design and build renovations. Why stop there? Major additions like patios, pools, gazebos, outdoor kitchens, and more can all have a profound impact on your home and living space.  
That's where Outdoor Experts comes in.  
We are Cincinnati's finest outdoor design and build company, making your outdoor living space all it can be! We are proud to serve Warren County, Hamilton County, Clermont County, Butler County, and Northern Kentucky. 
If you are ready to discuss the outdoor upgrade of your dreams, reach out to Outdoor Experts today!