Transform Your Backyard with these Luxury Landscaping Tips
Transform Your Backyard with these Luxury Landscaping Tips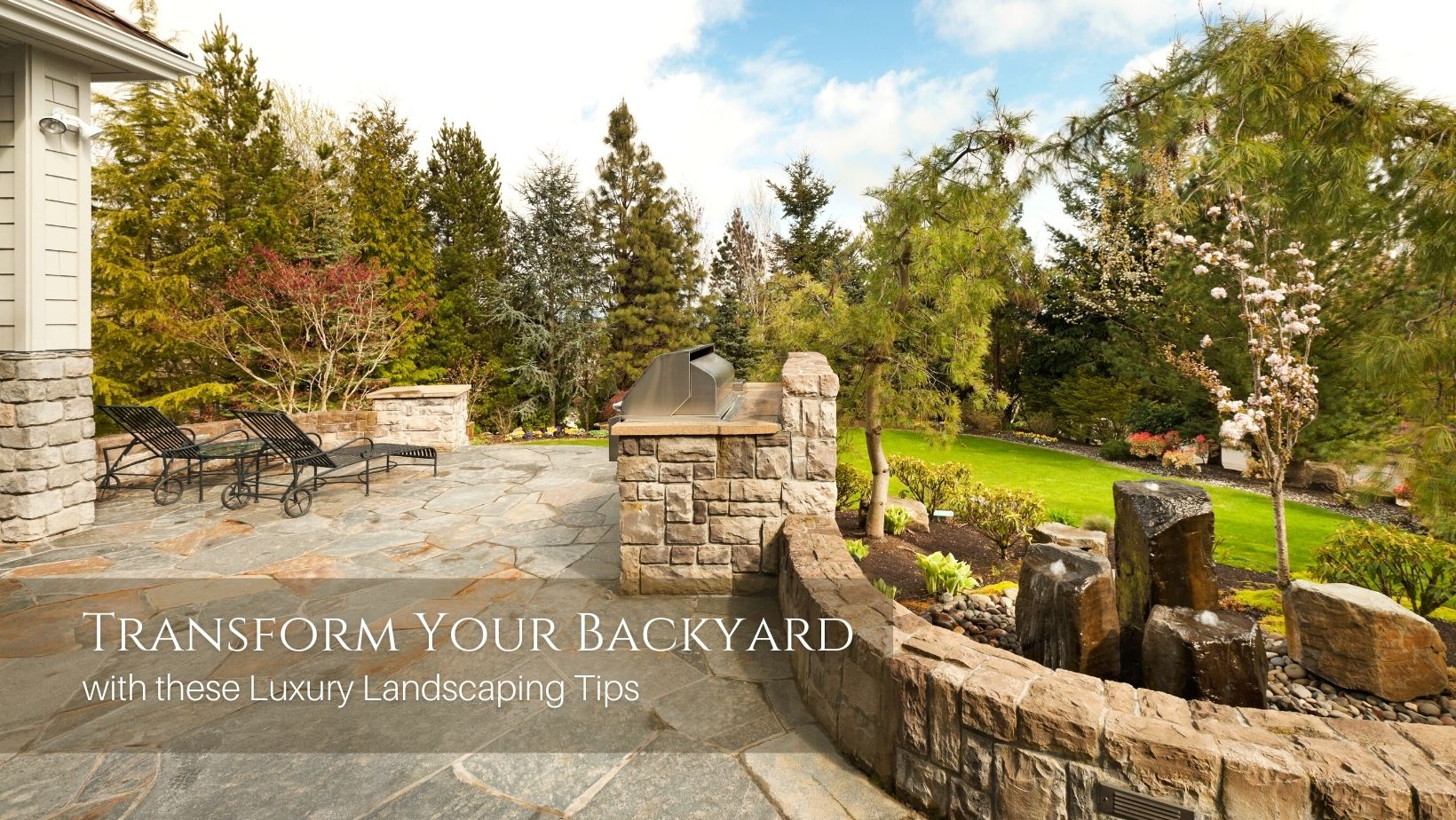 Making your home the perfect place to live is not an easy feat. Many homeowners are constantly making changes to their homes to keep up with modern trends and infuse their lives with luxury.
When you are upgrading your home, it can be hard to know what you should focus on. In terms of updates, you should always consider your backyard your priority.
In even the most luxurious of homes, backyards are often an underutilized space brimming with potential.
If your idea of a backyard consists of a few trees and a garden, then there is a whole world of possibilities that you can consider.
Before you make any changes, create a comprehensive plan for the year and allocate time and money to accomplish your goals.
This post will give you some ideas on how to transform your backyard into the ideal living space while making your life easier in the process.


Remove Extra Work
When considering upgrades, you always want to make sure that your yard's new features are not adding to your daily workload. If each upgrade requires more work from you each day, you will soon struggle to keep up with the demands of maintaining your home.
Instead, look for upgrades that require one-time labor investments.
For your garden, plant vibrant perennials so that you do not have to replant your garden every year.
Remove any excess shrubs or trees that don't provide shade or a clear ecological benefit. Fewer branches and debris mean less weekly work on your part.
Also, be sure to make use of the latest technologies. Smart home features, like smart sprinklers, are self-maintaining and require little to no effort on your part. Not only that, but they can also help you save money by eliminating waste.


Consider Multi-Functionality
If your upgrades aren't multi-functional, then you are wasting space. Every upgrade you make should have more than one use.
Go beyond plants and flowers and invest in barbeque pits, fountains, outdoor kitchens, gazebos, and more. Curate spaces that are not only perfect for a relaxing summer's day by yourself, but also get-togethers with your friends and neighbors.
Seating should be ample, and your outdoor spaces should always be built to impress.
Always focus on conserving space. Vertical gardens are a great way to add a splash of opulence while consuming a very small portion of yard space.
Also, consider adding at least one water feature to your yard to provide a cooling effect. Waterfalls, garden pools, and water fountains are a great way to add an extra layer of beauty to your yard.

Use Hardier Materials

When purchasing your hardscaping, always opt for hardier materials. Your walls, patios, and walkways should all be made of concrete, wood, brick, metal, or stone to ensure that they hold up against even the harshest of climates.
Stress and weather can wear away your most opulent features, but hardier materials will slow this process.
Make use of natural stone flooring around your yard by creating a walkway to make moving around easier. A proper walkway will provide your yard with a more polished look and will save your grass from trampling.
Choose the most resilient of materials whenever possible, and your hardscaping will last all the longer.
Create a Space Meant for You
Making the perfect outdoor living space isn't easy. But if you have a thorough plan and a dedicated budget you have already won half the battle.
Don't let your backyard put a damper on your otherwise luxurious home, reach out to Outdoor Experts. We are Southwest Ohio's premier outdoor landscaping company.
When you want to turn your backyard into a place you can truly call home, only Outdoor Experts can give you an experience that will leave you satisfied for years to come.