Holiday Lighting Tips and Tricks for a Bright and Safe Display
Holiday Lighting Tips and Tricks for a Bright and Safe Display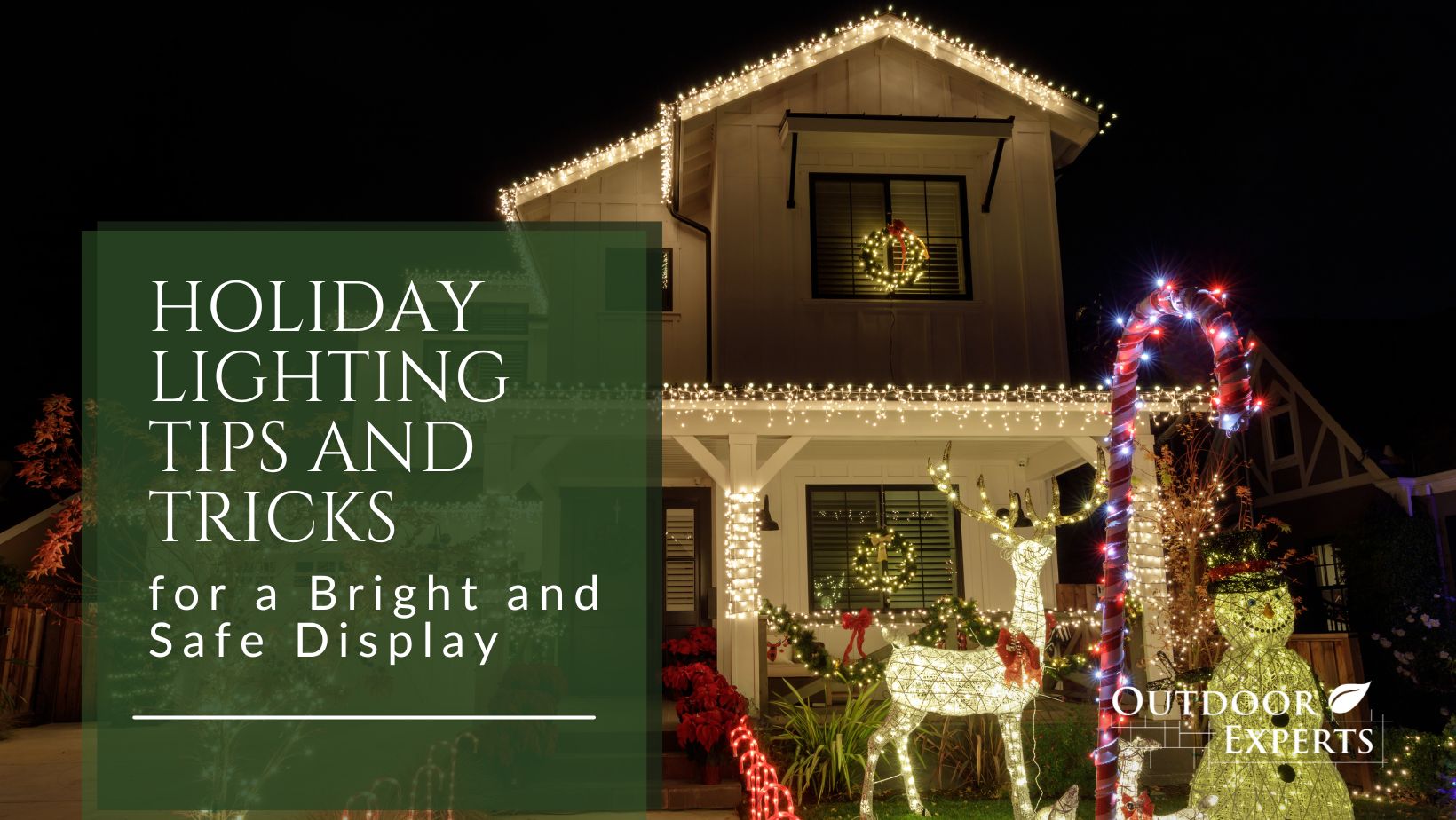 The winter season is upon us, and for many homes across Ohio and Kentucky, that means homeowners are looking forward to hanging their festive Christmas lights.  
Not only are Christmas lights dazzling to look at as you drive down your street at night, but they are also a great way to have a friendly competition with your neighbors. 
Hanging Christmas lights is a fun job, but sometimes it can be dangerous. The cold and icy conditions of winter can pose safety hazards so it's important to approach with caution. Use these tips to hang your Christmas lights to get the job done safely and efficiently. 
Outdoor Experts has assembled a list of the top tips for producing a bright and beautiful Christmas light display safely. Keep reading to learn more! 
Use These Tips for a Better Christmas Light Display 
Let's look at some quick tips for a better Christmas light display.  
Start Small 
Two or three well-organized light strands will look much better than a dozen in a disorganized mess. 
Keep Safety in Mind 
Always have proper safety gear and slip-resistant shoes when working in wet or icy conditions. And be sure to have a spotter holding your ladder. 
Check Your Lights Before Hanging Them 
Look for signs of damage like broken bulbs, frayed wire, or other health hazards.  
Get a Brand New Strand of Lights 
A new light feature will help make your home pop this winter.  
Use a Sturdy Ladder 
If your ladder is uneven or wobbly, you are putting yourself in harm's way. Always check the stability of your ladder before you climb! That includes checking for uneven footing and rusty joints.  
Work from the Bottom Up 
Whether you are lighting up your house, tree, or anything else, start from the bottom and work your way up.  
Avoid Bright Light Overload 
Sometimes less is more. And that is certainly the case with Christmas lights. Too many lights will leave you overwhelmed, and your house will struggle to make a statement. For optimum beauty, go with a few lights that you love. 
Add a Little Razzle Dazzle 
When it comes to Christmas décor, for most it begins and ends with lights. To set your home apart, opt for decorations that do not include an electric component. Find set pieces that will accentuate what you already have and contribute to an overall theme.  
When in Doubt, Call the Pros 
Let's say you really want to make a statement this year. Or, while you're hanging your lights you notice damage to your roof.  
For big projects this winter, call in professionals. They will be able to help you with big light jobs and fix any damage you come across. 
Better Holidays with Outdoor Experts 
Your holiday lighting might be taken down come the end of the season, but your outdoor living space lighting is important year-round. We provide outdoor lighting solutions in the Cincinnati area for your outdoor space. 
We proudly serve outdoor design and build outdoor living area lighting services in Warren County, Hamilton County, Clermont County, Butler County, and Northern Kentucky!  
For the finest exterior design and build company in the Cincinnati area, reach out to Outdoor Experts!