Best Backyard Locations for Your Outdoor Living Space Features
Best Backyard Locations for Your Outdoor Living Space Features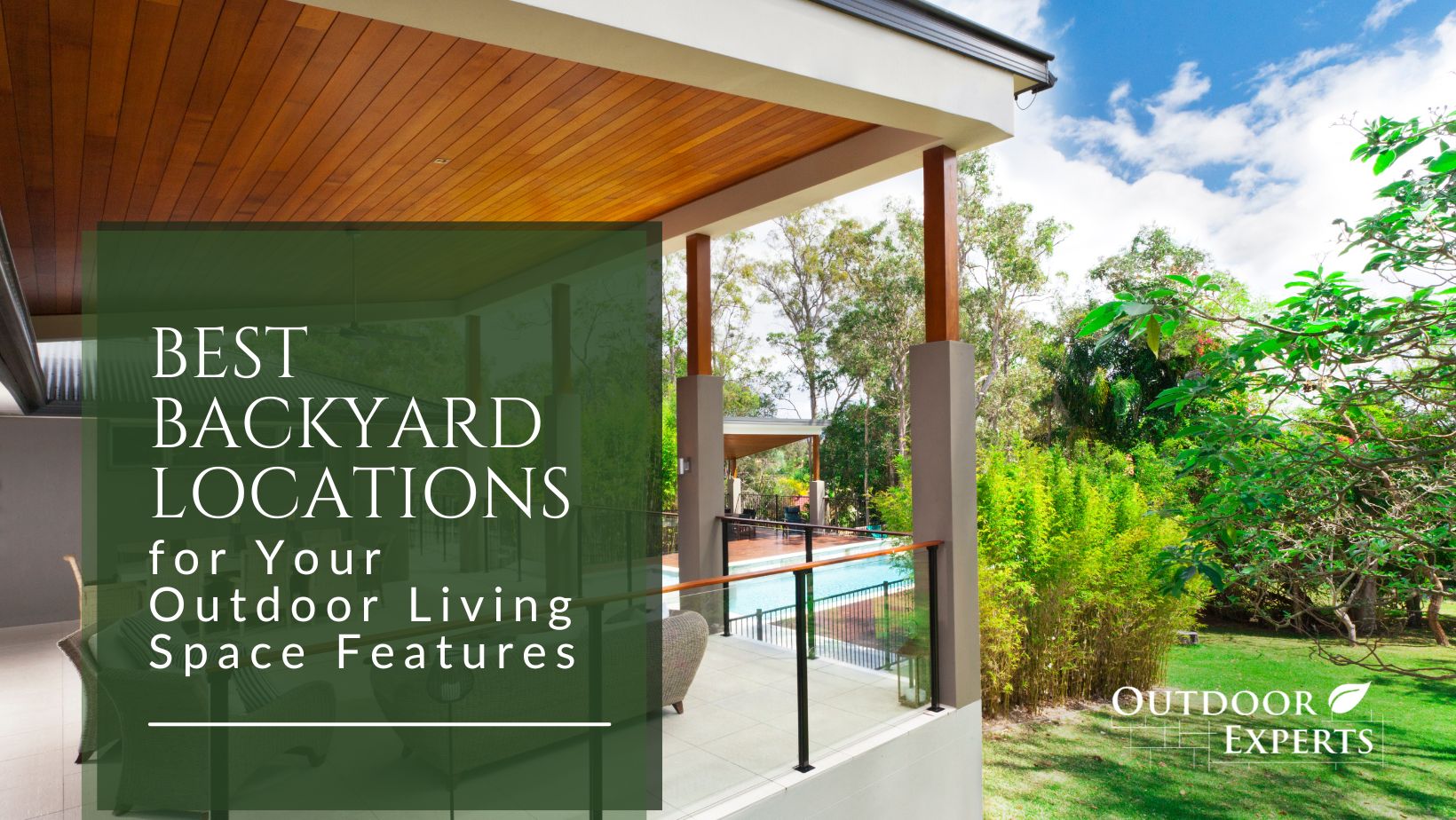 We all want a fabulous outdoor living space, but it can be difficult to know where to put everything, especially if you have a large or uniquely shaped backyard.  
The truth is you can fit everything you want in your backyard (space provided), but you need to be sure that your utilities and décor are organized to maximize their usefulness and efficiency.  
In this post, we will go over some of the top suggestions for locations of your outdoor living space features. Keep reading to achieve a perfectly balanced yard! 
Your Guide for Outdoor Living Space Placement 
If you want premium tips on outdoor living space locations, then you have come to the right place. Outdoor Experts are pros at turning your backyard from fine-for-now to the outdoor oasis of your dreams. 
Use these tips to help get you started.  
Always plan ahead.  
Every year you should put together a plan for your ideal outdoor living space. Include those things you already have, remove the things you want to get rid of, and those things you plan to add or dream of adding.  
Determine your backyard budget for the year and decide if your dream adds are all realistic.  
Now that you have a list of all the things your backyard will include by the end of the year, quickly sketch out the layout of your backyard.  
This sketch is subject to change. A bird's eye view can help you get a better sense of the gaps you will want to fill in, and the ideal placement. It may even inspire a better layout.  
How are you going to use your space? 
Your space's utility will determine its purpose.  
Will you use your outdoor space for eating? Is it meant as an area for your children to play? Do you plan on cooking or grilling outdoors? Perhaps you mean to entertain? Will you want to gather around a roaring fire in the darkened evening? Or maybe you are better suited to lounging in the sun?  
In most cases, you will want to do a mixture of the abovementioned things. You need to determine what is most important to you, and design your space to reflect accordingly.  
Location is everything! 
Only you know your backyard. You know where the hills are, you know where it gets most drafty, you know where bugs and pests congregate, and you know where the best patch of shade falls.  
That said, let's break down the areas that are typically the best for different types of outdoor living spaces.  
You will want a space that is located close to your kitchen, has a clear walkway leading to it, has a good balance of sun and shade, and is free from pests. Usually, decks and patios are best for this purpose.  
If you mean to entertain or enjoy the wonders of the outdoors, then you will want a cool place with plenty of shade. Be sure that you leave room for a view! Try next to your garden under the shadiest tree.  
Your outdoor kitchen should be in a place with shade, and it should be near a gas and water line.  
Swimming pools need a good deal of area and should be a moderate walk away from the house. Be sure to have a fence surrounding your pool and that it is on an even surface.  
Your garden should be in a flat area with plenty of sunlight and fertile soil. Keep your distance from pools and outdoor kitchens.  
The Backyard of Your Dreams from Outdoor Experts 
Achieving the backyard of your dreams is no easy task. It takes a vision, hard work, and the drive to create the space you want.  
Outdoor Experts is here to help! We are the best when it comes to design and build in Cincinnati.  
If you want to get the outdoor living area of your dreams, then it is time to reach out to Outdoor Experts! 
We proudly serve Warren County, Hamilton County, Clermont County, Butler County, and Northern Kentucky! Send us a message today for a quick quote!